Disclaimer
A lot of articles written about incredibly beloved movies/directors, are often accompanied by generally negative responses that go beyond simple disagreements, so, I begin this post by saying:
I love The Avengers and I love Joss Whedon.
However, within the realms of film critique no one is necessarily exempt from criticism, especially where there is cause for concern or discussion. Today's post thus, is essentially a review of The Avengers: Age of Ultron which, I feel, offers elements that are questionable and confusing at best – namely when regarding the character development, origin and story arc of Black Widow, aka, Natasha Romanoff.
Joss Whedon's directorial history
I feel that when mentioning Whedon, there's an untouchable element to him, as far as critiquing goes at least as a result of the enormous cult following of Buffy the Vampire and Firelfly alone. However, as a huge fan of both, I am comfortable enough to admit that, within Whedon's work – while predominantly excellent – there are blatant flaws, particularly when considering his overt feminist leanings.
Admittedly, the majority of his characters are strong, independent, intelligent women, but there are still elements of his characters rooted within the generic, somewhat limited creative arc bestowed exclusively on TV and cinema's actresses. Of course, this isn't entirely down to Whedon alone, given the deep-rooted misogyny that is rampant throughout Hollywood. However, the issues that were raised in Age of Ultron for me, relate to the tragically limited female character arcs that, given Whedon's reputation, could have been handled in a far more empowering way.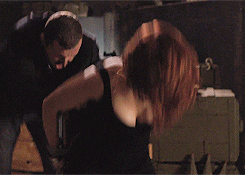 Black Widow
Natasha Romanoff is, without a doubt, an excellent comic book character. Being the only female lead in the current Avengers movies, she represents the female superhero excellently. Her role in the first movie saw her standing alongside the male superheroes as an equal; her gender was not an apparent factor, I felt.
Her introduction to the original Avengers movie was impressive: her mission to purposely get caught by her enemy, then, when Avenger duty called, abandon the mission quickly with a few swift kicks and punches in the appropriate direction, before joining her Avenger team mates. As the film progressed, she continued this development of the strong, independent female superhero.
When teased by Loki regarding her feelings for Hawkeye, she almost rolls her eyes and offers a pithy response, based on his ridiculous assumption. Love is, after all, for children.
In the original Avengers movie, Black Widow was portrayed as a strong woman, equally vital to the movie's progression, yet, when Whedon returned for Age of Ultron things changed.
Avengers: Age of Ultron
Unfortunately, I feel that Whedon's second attempt at an Avengers movie fell tragically flat. While Age of Ultron was an undoubted success and highly enjoyable movie, Natasha's character development ceased to progress, and her entire story arc throughout the duration of the movie hinged upon her gender, rather than her formerly vital place within The Avengers team.
In contrast to the original Avenger movie, Black Widow regarded The Hulk with apprehension and fear, Age of Ultron's relationship dynamic between the two had shifted and replaced with love and adoration – and with those feelings, Romanoff's role as a superhero/Avenger became secondary to exploring and developing those feelings further.
Age of Ultron saw Romanoff's character diminished into nothing more than the general stereotypes reserved for women in the most terrible of romantic dramas. Black Widow was no longer an Avenger, but a woman so focused on her love for Bruce Banner, that her entire role within Age of Ultron was focused on him and her attempts to constantly and persistently define their relationship, and proving to Banner that it could work.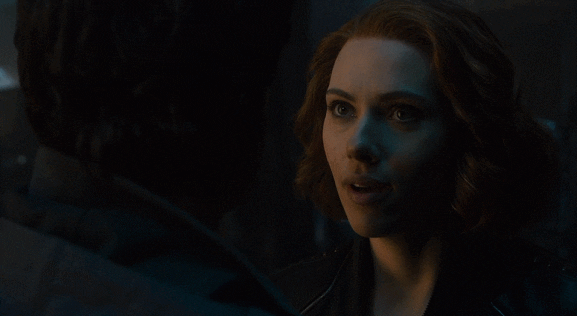 Poor Natasha Romanoff
As a result of Natasha's shift in focus, other female-specific issues began clouding her brain, causing her to become a weaker character throughout the progression in Age of Ultron. When Scarlet Witch was introduced and began working her magic on the team, casting a spell on each of the Avenger team members, each were given a specific insight into their fears, and it was tragically disappointing to discover that it was only Natasha Romanoff's dream-like hallucination that had anything at all to do with gender:
Iron Man
Tony Stark's fear involved the big, scary alien fish boat thing from the first movie, and proceeded to see all of his Avenger friends lying dead on the ground. It was at this moment he realised that he needed to do something to save the world from the threat of what lies beyond the sky – propelling his character's development further and paving the way for Civil War.
Captain America
Steve Rogers went back to a time where all of his friends, and his beloved Peggy, were alive; young and vibrant. He was then forced to watch them die, as the realisation dawns on him that he is somewhat displaced within the modern era he now finds himself in.
Thor
Upon seeing a blinded Heimdall, Thor begins to suffer as the realisation dawns on him that the people he cares for are dying, or suffering. He begins to feel unworthy, but this is also the moment in which he realises that he has the key to beating Ultron and creating Vision.
Hawkeye
Clint was impervious to Scarlet Witch's attempts at tricking him, making a comedic quip and sticking her with a debilitating arrow to stop her.
Black Widow
In stark contrast, Natasha Romanoff was haunted by the memory of her 'graduation day'; the moment when she was stripped of her most womanly attribute: her womb and the subsequent ability to have children.
The main trouble with this, of course, hinges on the fact that as soon as the audience see this, Black Widow's story arc that once sees her as an incredibly strong character, (an avenger, an assassin, a fighter) is now diminished, to the point that there was really no other pivotal moment throughout the rest of Age of Ultron that sees her as anything more than a love-struck teenager, anguished at the concept of motherhood being robbed from her.
What happened to Natasha Romanoff?
Let's face it; even in one moment in Age of Ultron where her role in the mission becomes pivotal and should be her main priority, she is entirely focused on The Hulk's whereabouts. Furthermore, when Natasha then disappears, a conflict is prompted in Hawkeye's mind – does he focus on the mission for the benefit of the entire world, or does he stop this and instead go and save Natasha. The cinematic construct here is to allow audiences to suggest that their friendship is unbreakable, but the unfortunate element to this is the fact that Natasha Romanoff's ability to save herself – as evidenced in the first Avenger movie superbly – no longer exists.
The women of Age of Ultron
Some may argue that I am simply nit-picking, and that the topics raised in this article are barely noticeable – unless you watch the movie with an 'agenda' (or a degree in film studies, whatever), but in comparison to her fellow Avengers, Ultron doesn't represent Romanoff as anything other than a stereotypical woman ,obsessed with love and her womb.
Without even going into any detail about how Black Widow's character should have been developed, the comparisons drawn are somewhat tragic:
Iron Man
Iron Man's main lady love Pepper is mentioned twice throughout the entire film. Once, when he is bragging about her accomplishments (working for him) at the party, and at the end of the movie during a discussion with Captain America, he mentions building a house in the middle of nowhere, and saving Pepper from scary things, like self-aware death robots that her husband creates etc.
Thor
Jane is mentioned once: at the party, where he explains that she is a recipient of a Nobel Prize, in an attempt to ensure that she's 'better' than Pepper.
This is perhaps innocuous, but in a movie that represents its main female character as – first and foremost – a woman, who comes with a lot of female related baggage – and an Avenger second, it is almost deafening how tragically misrepresented women are within Age of Ultron.
The only saving grace, admittedly, is Scarlet Witch who rips out Ultron's heart in the closing moments of the movie – however, this is entirely based on her emotions as the result of losing her brother. However, without this, the female impact in this movie is relatively non-existent, which is a damn shame, given Whedon's usual championing of women.

So, how do you solve a problem like Natasha Romanoff? I guess the only thing we can really   do is hope that by the time we see here again, gone is the doe-eyed, pouting star-crossed lover, and the essence of Romanoff returns: an assassin, a hero… an Avenger.
All images were found via Google Images, unless featuring The Geek, Simple. logo, and all credit goes to original posters.