I was chatting to a friend recently; they were confused that I love action films, given my staunch feminist leanings. I mean, isn't the action genre the antithesis of women, they asked? Don't worry, friend, I replied, I see action movies for what they are: rampant with problematic feminist tropes – and absolutely excellent. They are my not-so guilty pleasure, and I think that it's perfectly OK to like action movies, and still be a feminist (and so do most feminists, you guys!

I also apply the same principles to the comic books I read, and the games I play too. Sure, they're problematic, but I enjoy them. Feminism can, without a doubt, still be at the core of my personal ethos, even though the things I enjoy include unfortunate tropes. There is no need to boycott my hobbies – phew!

In fact, a fun game I like to play when watching an action movie is, 'spot the feminist trope'. A game in which I like to highlight the problematic nature of a particular movie, scene or plot, and relay those thoughts to whoever I'm watching a movie with. My bearded human looks at me like I'm crazy, but has since admitted that I am offering him an excellent education in both film and feminism. You're welcome, my love.

Spot the Feminist Tropes
As stated, the action movie genre is rampant with unfortunate feminist tropes. I have listed my favourite before you for your viewing pleasure. They are the most common tropes and – arguably – the most problematic. But, they are by no means all of the unfortunate feminist tropes – there are many, many more to spot.
The damsel in distress trope
The most common, and without a doubt, my most favourite, is the damsel in distress trope. If you're unfamiliar with the term, let's remind ourselves of the Super Mario game series, in which Princess Peach has spent a fair few decades getting metaphorically strapped to Bowser's kidnap wagon, and thus needed to be rescued by a small Italian plumber. "It's a game for kids, give over!" I hear you shout, but that my friends, is the damsel in distress trope in action. In fact, Princess Peach might be the most successful and famous damsel in distress of all time – and not, that's not a compliment.
In action movies featuring a damsel in distress, the entire plot hinges upon our hero saving his leading lady from danger. In these movies, leading ladies are often portrayed as helpless princesses, even if they aren't, and enjoy typical feminine hobbies like: applying makeup and wandering helplessly into danger. They are usually almost unattainably beautiful, and desirable enough to compel leading men with good hearts and virtuous intentions to save them, when they inevitably find themselves in dangerous situations, with a big old kiss as a reward.

Dangerous situations can include: being strapped to a chair in a room full of bombs (by a psychopathic clown, Russin and/or person of Arabic descent – or indeed, anyone who America happens to be raging against at the time). They could wander into a dark alley and fling themselves into the arms of a dark stranger in the shadows, only to find, ONCE IN HIS ARMS, that he's actually the movie's antagonist… D'oh!

I genuinely love a damsel in distress – like I said: my favourite of all the feminist tropes. She whimpers while in captivity, maybe spits on our antagonist a little bit, while he battles evil attempting to get to her. He will then, after almost dying twice, arrive bloody and half-dead – offer a heroic and not too misogynistic speech – for a massive and passionate kiss upon her rescue.

I suppose not everyone can be Princess Leia…
The ice queen
The ice queen is often a direct contrast to our dashing, charming and most likely, very funny leading man. They are often seen as impenetrable ice fortresses that our leading man could not possibly melt, but in a simple twist of fate, he always does. The ice queen has a cold heart, a probable aversion to children and is almost always, aggressively career driven. The last thing on her mind is bouncing on our leading man's balls – she has a job to do – and as such, is a frigid bitch.

An example of this is the action staple: Die Hard. John McClane, upon visiting his wife at work, has an argument with her because she has chosen to live in LA with his children, for the benefit of her career. Granted, he refused to give up his own career in New York, just as she refused to give up her career in LA, but as everyone understands, being a cop in New York is completely different to being a cop in LA – and, he couldn't ever make the transition while he still had open cases. Whatever irrelevant career she had going on in her high rise office, with her fancy success and Japanese CEO could be done anywhere. CHRIST, Holly, you're so selfish! It's no wonder you stopped existing.

My favourite example of this particular feminist trope, however, is of course, Claire Dearing in Jurassic World. AH, it's just SO good! She hits every button on the ice queen trope checklist to the point where you genuinely wonder if they were attempting to make her a parody, except tragically, they weren't. Our leading lady has a severe, short and very straight hair cut (which, notably, begins to curl when she starts to soften!). She hasn't seen her family in years, doesn't like or understand children, or the intricacies of dinosaur DNA, and she turned down Chris bloody Pratt of all people, because of said careery. But golly can she run in heels, amirite?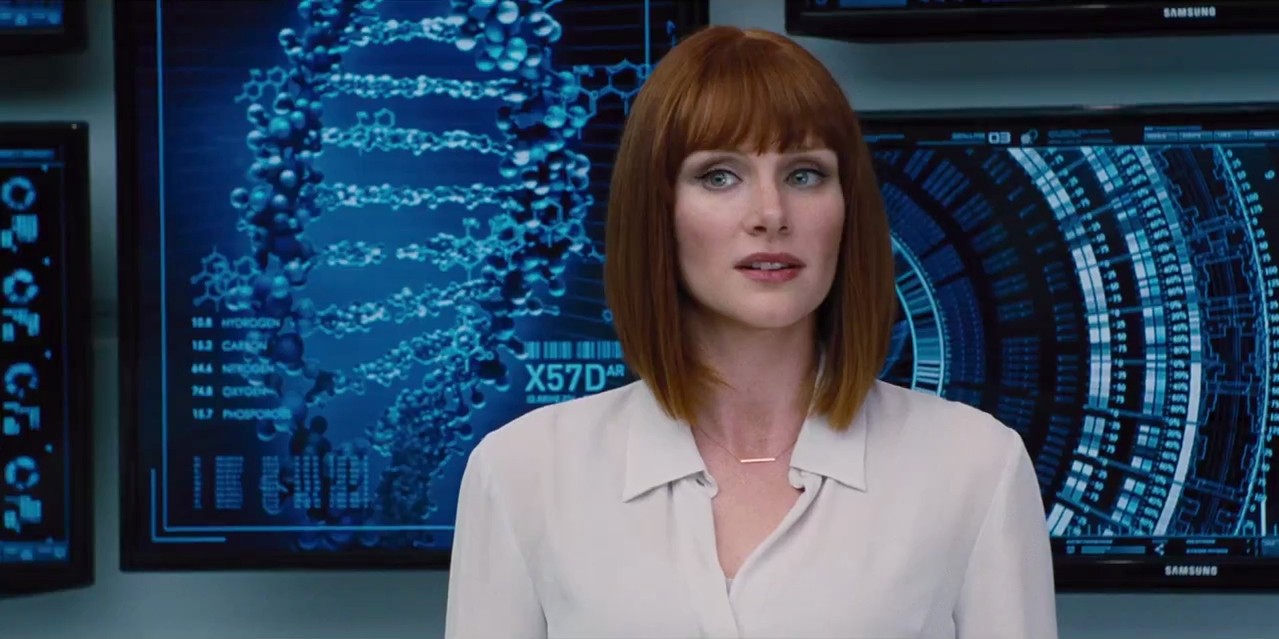 The disposable woman
This trope is not too dissimilar to the damsel in distress trope, really. In fact, you could argue that the Dark Knight made Maggie Gyllenhaal disposable, rather than a genuine damsel in distress. She does [spoiler alert], die, rather than being saved by our hero, so I'd say that's pretty disposable…

So, the disposable woman is often the wife, mother or daughter of our protagonist. The reason that girlfriends aren't is because there's nothing quite tragic about losing a girlfriend – you just find another one, right? Or you save her, and then we have the damsel in distress trope back with a vengeance. However, with a wife, mother or daughter, the protagonist is losing something definitive; something irreplaceable – in virtuous action movies, you can't simply get another wife; you become the tortured hero. That's just how it works, I didn't' make the rules.

The reason behind the wife, mother or daughter's existence is always to be kidnapped and then raped and/or murdered. Perhaps all three. Again, this is similar to another feminist trope that sees perfectly good female characters being thrown 'in the fridge'. When this inevitably happens, our protagonist is given his true purpose in a movie's narrative: revenge.

Goldie in Sin City was an amalgamation of the above, and indeed, the hooker with a heart of gold trope. However, because Marv didn't discover that she was a prostitute until after she died, she becomes disposable. Goldie is the embodiment of a lot of feminist tropes, really: the big, blonde curls, soft and innocent face… She's problematic personified, to be fair – however, we're moving into comic book territory here, let's get back on track.
Our hero, Marv, tells his tale after she has passed: he meets a gorgeous girl in a bar, they have passionate and memorable sex – the kind that can make a man who meets a girl in a bar fall in love instantly – and he wakes up to find her dead. This enables him to go on a killing rampage to discover who killed her. Ya see, tropes in action!

Batman's The Killing Joke covers a similar topic – although, I think this is more fridging now, given her fate. Barbara Gordon – Batgirl – is brutally abused by the Joker and effectively killed off as a superhero, for no other reason than for him to prove a point to both Batman and Commissioner Gordon. So pointless was our gal B, that she was shot in the spine so our hero could have fun saving her dad.
What other kinds of tropes are there, Geek Simple?
I'm so glad you asked, gentle reader. There are too many to even shake a stick at, ladies and gents: the female scientist, gun toting woman with a tragic backstory, sassy black woman, gold diggers, the bound and gagged female, crazy ex-girlfriends… the list is somewhat endless. So what happens when the rules are flipped?
Action movies for women
If recent history is anything to go by, anything that is catered to a female audience is either not taken seriously, or is considered polluted and ruined. Female comedians are often given the moniker 'female' so that men realise that their humour is terrible and pointless – not at all that it isn't about them – in the same way that movies catered towards a black audience are given a limited run in the cinema, or goes straight to DVD. If movies aren't catered towards an all male, white audience, then what is their fucking point?

Action movies, above all other genre, belong to men and, traditionally speaking, Hollywood has always catered this genre to an all-male – predominantly white* – audience. Hence, the shit show that often occurs when any action movie subverts tradition.

*This of course excludes certain action movies that focus on black men, but these need to also be drenched in comedy – mostly slapstick – so that they are also accessible to the white man. We can't go around supporting black actors by making them feel equal now, can we?
The problem with Mad Max
Mad Max: Fury Road is an excellent example of what happens when Hollywood flips the script and makes an active decision to negate movie tradition – by evicting feminist tropes from its narrative. As a result, Mad Max became a movie that was inclusive to both men and women – what the what?!
Personally, I thought Mad Max was a wonderful story; it certainly had amazing topics to be explored (hence the post, I suppose). However, at the same time (and I'm assuming still now, because no one holds a grudge like a fedora scorned), men's rights activists were pissed off, and utterly revolted, that a classic action hero was given an alleged feminist agenda.

For shame, pesky feminists, FOR SHAME.

Instead of a gun toting, bomb exploding, woman fucking action hero, Tom hardy just happened to exist alongside a bunch of women being saved by another woman with one arm. Mad Max was only along for the ride you guys, and as a result, fedoras and male sensibilities the world over were triggered.

In reality, of course, the movie was still very much about Mad Max. However, instead of seeing him save the day and save the woman saving the women, it became a story about him helping women – women he didn't even fuck! The movie's narrative told the story of these women, but through the eyes of our movie's protagonist: Mad Max.

But you know, feminist agenda.

I suppose if there was a feminist agenda – especially with the above tropes in mind – Mad Max was, to an extent, a genuine subversion of traditional feminist tropes. Maybe that's why the men were angry? After all, he was kidnapped in the movie's opening scene (subversion of the damsel in distress trope, for those paying attention), and he was bound and gagged for the majority of the first few scenes too – another subversion! What's more, Max was also being used for the products he created in the first few scenes of the film. So, if anything, this all served to heighten his empathy when he met the women whose story he was telling – they were also used in the same manner.

However, what the movie haters seem to forget, is that Mad Max, as a character, has been getting used and bossed around for years. His entire existence hinges on the fact that he just wants to be left alone, but is constantly being dragged into other people's problems. Like I said, this has been happening since his inception; Fury Road offered nothing new for Mad Max. However, the backlash received was because the story our protagonist was telling happened to be centred on Furiosa, a woman – as the protagonist, AND MAN, he was an accessory to the plot, rather than the main event.

Mad Max, in fact, was the vehicle in the movie to enable Fury Road to reveal that women can also make excellent action heroes without adhering to harmful feminist ropes (gun toting woman with a tragic backstory. For example, Kill Bill). Women can still kick ass and be just as relevant as any male action heroes. So, as far as feminist agendas go, it would have been pretty harmless.
We get it you guys
The all-female Ghostbusters received a similar amount of angry backlash, and you can guarantee that if you type 'all female Ocean's Eleven' into Google, you'll find someone who is absolutely irate that Frank Sinatra's memory is being tarnished by actual vaginas.

It does make you wonder if men – and society, as a rule – forget that action movies also play a big part of women's lives too, and that we'd also like to be represented. Or do they simply not care?

If anything, instead of outrage and social media discussions of boycotting, movies like Mad Max: Fury Road should be considered a lesson to men. We get it, you guys – we hear you! We understand that you're annoyed and upset when you feel that your gender is being misrepresented. We've been experiencing this forever. We can help you through this – welcome to the club!

Because we've had to, feminists have learned to point out tropes and have a genuine understanding of why they're problematic, which is why we can appreciate when a proper feminist action movie comes along – like Mad Max: Fury Road – a movie still very much centred around a man, but with a little empathy, support and respect for women. What a time to be alive, eh?