I watched Thor: Ragnarok recently. Admittedly, I've always had a rater bittersweet relationship with the Thor franchise. While I certainly have enjoyed the movie iterations of them, there has always been something underlying that makes me pause for thought. While always humorous with good casting, there's something that doesn't quite fit; something missing.
Of course, this possibly lies in the stark differences between Thor and the rest of The Avengers. Captain America and Iron Man – as the first Avengers – established the narrative of most of the movie franchises way back when, but out of all of the Avengers, Thor is the most different.
Thor isn't a human who has been mutated, a rich boy turned turned hero, a spy or war hero back from the not-so-dead. Thor is a demi-god, with powers that extend beyond the rest of our heroes; he is bound by magic, fantasy and myth. As a result, the movie makers behind Thor's original movie were entering genuinely uncharted superhero movie territory, that they weren't truly ready to explore.
While the exploration of source material has never been an issue for Marvel, I feel that filmmakers have always attempted to pigeonhole Thor as an Avenger; forcing him to fit the established narrative, rather than explore and establish the off-world, magical element of the character, rather than waiting for Dr. Strange.
Admittedly, I genuinely thought that this was all in my head. Bus since watching Thor: Ragnarok recently, I realised that I might have been right… Fancy that!
Reviewing Thor: Ragnarok
To truly appreciate Taika Waititi's Thor: Ragnarok, you need to look at how the Marvel franchise has fundamentally evolved in the past few years.
The exploration of Thor's demi-god status before, has always made me feel like he's some form of bull in a China shop. Someone who is comedy relief, so to speak: a dim meathead who, in spite of being a magic hammer wielding demi-god, has always been undermined and condescended to, almost, because he hasn't' quite grasped humanity's biggest triumph: technology.
When Thor was first introduced – as previously mentioned – the superhero narrative was already set in stone. As a result, the mistake (a term I use SO loosely) that has been made with Thor, has been attempting to humanise him and diminish the demi-god element of his character to have him fit into the superhero mould (a mistake, I find, was also made with The Hulk, before Mark Ruffalo took over). As the franchise has grown, it seems clear to me that in spite of the cheap laughs at Thor smashing a cup and not understanding how pet stores work, that humanising non-human characters simply doesn't work.
A wonderful journey through time and Thor
Since the second Thor movie – Thor: The Dark World – back in 2013, audiences have been introduced to entirely new elements of the Marvel catalogue; all of which are crucial to the ongoing Infinity plot. Dr Strange and Guardians of the Galaxy have transformed the exploration of magical and off-world fantasy elements of the Marvel franchise, and thus given an entirely new dimension to how audiences view and consume Marvel movies.
While Thor's previous iterations have all explored space, there has been a definitive disconnect between the previous movies and Ragnarok. Previously, Thor has seemed more rooted in earth than he has Asgard, and as a result I've felt that he has been quite displaced. Perhaps influenced by The Avengers' – namely Tony Stark's fear of the unknown that space brings to his sheltered existence (you know, sheltered to the extent that he's a massive millionaire playboy type… of course), but since the introduction of Guardians of the Galaxy in particular, a new mould has been broken that has transformed Thor both as a character, and as a standalone movie, independent from his role in The Avengers.
Reviews I've read and heard so far congratulate Taika Waititi for establishing a distinctive directorial voice and evolution of Thor. While I certainly agree that Ragnarok is an excellent piece of cinema, I think that the Thor franchise has been revolutionised as a result of the success of Guardians of the Galaxy.
Thank you, Guardians of the Galaxy
When Star Lord and the rest of the Guardians appeared on the big screen, an entirely new precedence for Marvel movies was set. While comedy has always been prevalent in Marvel movies, Guardians of the Galaxy gave superhero giggles an entirely new meaning. It was self-aware; it broke the mould for a lot of movie fans who felt that the superhero movie genre was becoming too stale.
I believe that Thor: Ragnarok was heavily influenced by the bold and audacious appeal of Guardians of the Galaxy. The Marvel narrative has stopped applying to Thor – from the first scene in Ragnarok we see Thor immediately move away from the serious, mythically bound demi-god and become a tongue in cheek, self-aware hero – not only in look, but in character too. He has, without a doubt, moved away from being the slightly boring Avenger to become something a bit more – he reminded me of Chris Pratt's Star Lord.
Granted, there are elements of Ragnarok that are not without their flaws. The Hulk, who we last seen almost destroyed by the pain of his own existence, became a bit more slapstick, which i was disappointed by. However, when you consider the possibility that moving away from being entrenched by self-loathing and woe, The Hulk may be being set up for a greater and more positive role in Infinity War.
Elements I very much enjoyed included Cate Blanchett's Hela. She was a truly formidable and genuinely perfect villain. What I particularly liked was how her presence was able to humble the competitive brothers, Thor and Loki somewhat; perhaps making them realise that neither of them were ever their father's favourite at all. Equally, her terrifying ability to smash Thor's beloved Mjolnir with little to no effort seemingly exemplifies the lack of importance behind the brothers' feud and enables them to work together – again, I'm hoping this enables Loki to take on a more positive role in Infinity War.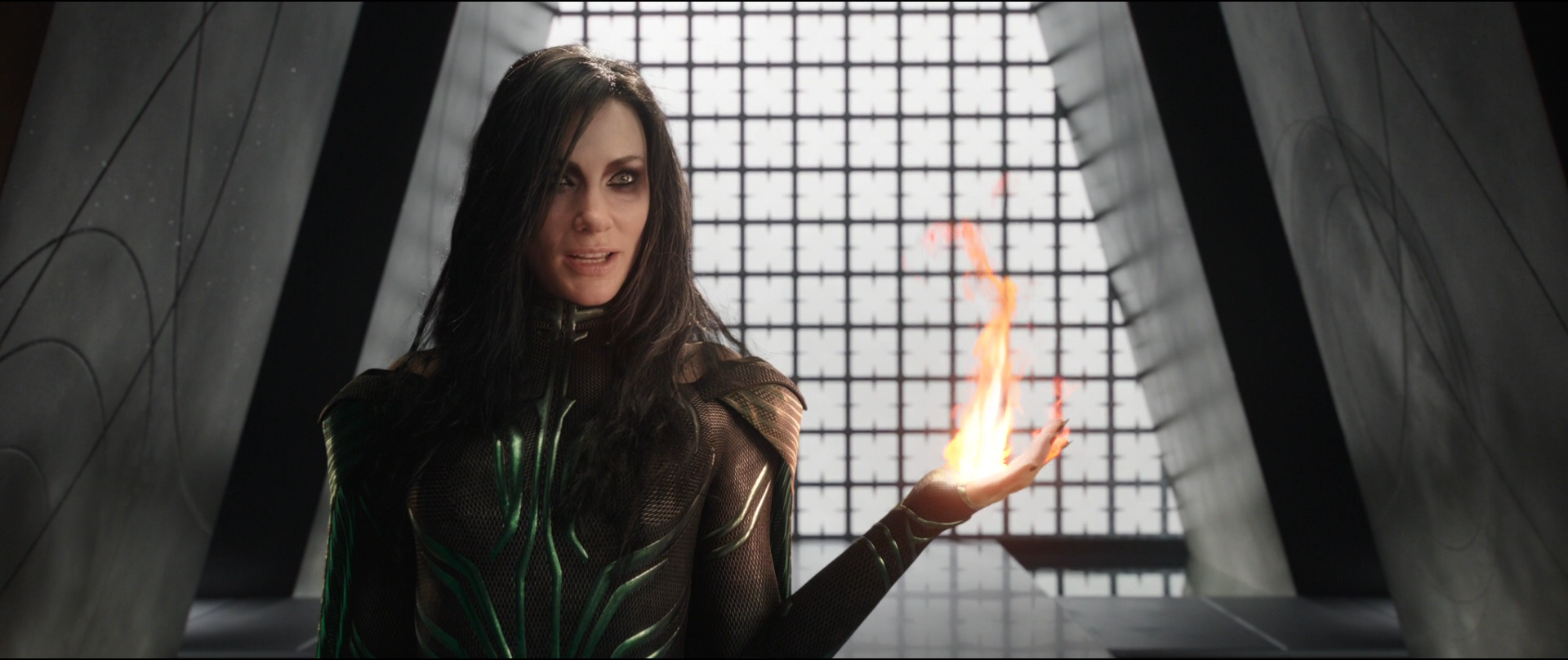 Hela also was able to offer a wonderful juxtaposition between scary evil and comedy evil, complementing the inimitable Jeff Goldblum as Ragnarok's secondary antagonist wonderfully. It worked surprisingly well and made for a more enjoyable watch than pure darkness and doom and gloom – as per the previous iterations of Thor's franchise.
To me, the similarities between Guardians of the Galaxy and Ragnarok aren't too overwhelming, but the expressive colours, set against the backdrop of Led Zeppelin's classic Immigrant Song, is enough to make it clear to the audience: Marvel have nailed the off-world superhero narrative and this is what we should be expecting from the studio moving forward.
Thor: the human
The irony, of course, that lies within Thor: Ragnarok's Guardians inspired self-awareness, rampant throughout the movie, is evident in Thor himself. When you remove the demi-god sense of familial duty and strip away the spoon-fed myth that has enveloped both his sense of duty, purpose and existence, he becomes more natural and more human – exactly what Marvel were aiming for when they first introduced the hero back in the day.
The weighty issues that have previously encapsulated Thor's core character have been realised – perhaps represented in the destruction of the physical plain that Asgard lay upon, and the new nomad existence of his people – but it has revealed that Thor doesn't have to be the most serious and potentially boring Avenger to lead his people. Thor feels more human than he has done in the past, and as a result, is now not only the hottest (hello, wonderful shirtless Thor!) Avenger, but perhaps the most capable Avenger too.
Thor: Ragnarok was a rampant spectacle; a soul-soaring magical adventure on the backdrop classic rock and Technicolor comedy. With the exception of Guardians of the Galaxy's previous iterations, it was – in my opinion –  the best Marvel film so far.